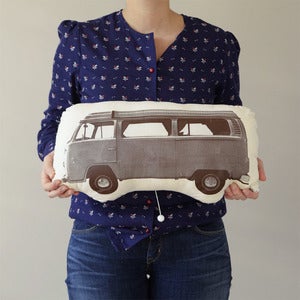 €

54.00
*Dans la collection "Le Garage de Ma mamie hippie" je voudrai le Combi-Van musical !
*Ma mamie hippie vous a concocté une collection de coussins sérigraphiés handmade qu'elle puise dans ses souvenirs d'enfance afin de vous proposez des objets de décoration aux motifs à la fois rétro et vintage!
*Le +:
La musique Rock à l'intérieur qui bercera toute la famille du plus grand au plus petit !
Les bambins pourront même emmener leur Combi-Van en vacances !
*A vous de customiser votre coussin en choisissant le coloris du motif, la musique à l'intérieur et le tissu au dos...
*Les musiques:
- "Light my fire" The Doors
- "Blowin' in the wind" Bob Dylan
- "Yellow Submarine" The Beatles
- "Over the rainbow"
*Les coloris sérigraphiés handmade sur le devant du coussin:
-Rose fluo
-Doré
-Bleu-océan
-Jaune fluo
*Les Tissus au dos du coussin:
-Lin argenté brilant
-Liberty (Tissu fleuris)
*Le coton utilisé sur la face avant est 100% coton, et le rembourrage à l'intérieur 100% polyester.
*Conseils d'entretien du Combi-Van:
Le coussin est lavable en machine à 30°.
*Taille du coussin:
environ 46x22cm
Toutes les créations Ma mamie hippie sont fabriquées à la main et en petite série, 100% Made in Paris !
Toutes les créations (sauf Bavoirs "Les p'tits cirés) Ma mamie hippie sont des objets de décoration, ne répondent pas aux normes NF sur les jouets.